Process: Raw cashew nut -> cleaning + removing stone -> calibration -> Steaming or roating -> Drying -> Shelling -> drying (Dryer Boma) -> Peeling -> Grading -> Packing ->RCN finished
Raw cashew nut is harvested with moiture with 12 – 15 %, need drying with sunrise to decrease moiture to 8-10 %, when begin processing RCN
RCN Cleaning + removing stone process:
with RCN after harvested have more

impurities

as dust, stone … So need cleaning and removing stone before calibrating processing. Have two solution to cleaning and removing stone is vibration of screening and air blowing to cleaning and removing
with RCN with have more size to

uniform

in steaming process and minimized uncutted and broken need Sorting size of RCN with Size A, B, C, D … Calibrating can design by vibration screening or net drum or distant of two roller principle, Sorting size by diammeter of net Steel or plastic
RCN have shell and nut attacted, if not steaming very difficult to separating shell and nut. So, to easy separating its, need

pressure cooker with steaming from boiler or fire direct, with 10-20 min depend RCN, then drying and shelling will be minimize broken and uncutted
RCN Roasting process:
RCN will cooking with oil, to use this technology need more pre-processing as need soaking ,de-oil …
Steamed RCN have high moiture, so need fast go to shelling processing need drying by machine or drying with sunrise, then enter shelling processing
this process use separating shell and kernel, RCN is steamed or roasted, after cooling and drying, have been shelling and separating shell and kernel, have some kind shelling processing as following
Manual shelling processing: two kind manual shelling India and Vietnam
Italy Shelling processing: this technology use principle of shelling manual in cutting, one machine capacity 40 kg per hour
Srilanka shelling processing: this technology use principle mould blade to cutting and separating, the machine shelling is standing type, run discontinuos, with low capacity 20- 100 kg/hour
Vietnam shelling processing: this principle is develop base mould blade and feeder automatic , with hign capacity: 60 – 200 kg per hour or more depend customers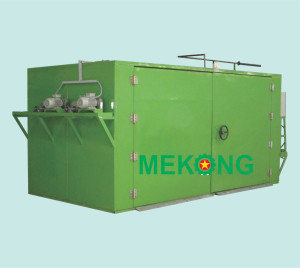 cashew drying machine
Cashew kernel unpeeled, to preparing for peeling need drying to separating skin and kernel
Cashew kernel Humidifing process:
after dried cashew kernel need recover moiture before enter peeling
use

Friction

between axis brush and wall of drum to separating skin and kernel, them use air with high presure to separating skin out to kernel
after finished peeling process, will have 60-80 % kernel is peeled  clean, and have 30-20 % unpeel, and missing in peeled to separating finishing and missing if use labour need more labour, so need apply color sorting technology to separating finished kernel and missing, this process is use principle They separate items by their colours, detecting the colours of things that pass before them, and using mechanical or pneumatic ejection devices to divert items whose colours do not fall within the acceptable range.
this process is sorting cashew kernel to preparing packing and export to market, have two kind grading whole kernel W240,W320 …, and grading broken kernel
can packing with vacuum packing with bag or tin packing with nitrogen, depend export market